A Way To Start Over Financially
Nobody ever really wants to be staring down the potential for bankruptcy. It's overwhelming, embarrassing, shameful, guilt-inducing and more. You may feel trapped, like you have nowhere to go. It can take a substantial toll on your mental, physical and emotional health. You may feel as though you have failed. And our economy right now isn't the best (to say the least). With millions of American losing their jobs, the belt on stopgap measures such as Medicaid, food stamps and unemployment payments grows tighter by the moment.
Bankruptcy almost always arrives as a result of highly unpredictable circumstances. With the current economic threats to our society bringing a considerable number of unknowns, many are choosing to file for bankruptcy. Bankruptcy isn't just a financial filing, it's a means of protection given by the court so that citizens have the opportunity to seek economic recovery.
You may be angry. You may be upset. You may feel frustrated. All of this is normal. What we're here to do is reassure you that you have options. This doesn't have to be overwhelming, and you have nothing to be ashamed of. Let's get started.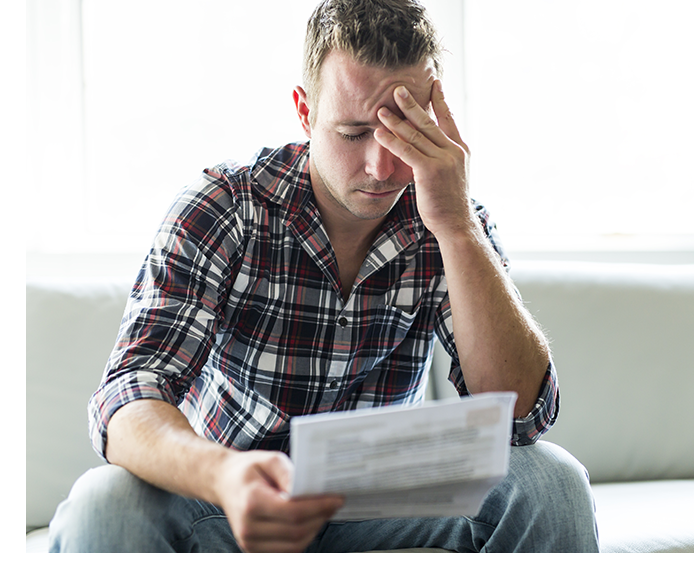 People File For Bankruptcy For Many Different Reasons Such As:
Court judgments for unpaid bills
Certain types of loan or credit card debt
Loss of income
Divorce
Medical bills
Catastrophic damage to property
Various types of emergencies
Foreclosure

Helping You Understand Bankruptcy

Medical Bills Are The Number One Reason Most People File 

Bankruptcy Is A Powerful Tool You May Use

To Help You Get Back On Your Feet
Our Bankruptcy Attorney
We know that this can all be very confusing, and you should know that Gary B. Fuller of Tate-Bywater has over 25 years of experience in bankruptcy law to guide you through this process. Bankruptcy, like most financial tools, is really just a means to make sure you can stay protected while you are dealing with some economic troubles. It's not a judgment or a moral valuation. It's merely a tool to help you manage your finances, like a bank account or certain investments. It's a tool that helps you to be able to start over financially.
We have stood with many who have been where you are now and have helped guide them back to a position of stability and security using our decades of skill and experience.
Everyone makes mistakes, and we know it's important to be able to come back from that mistake and keep on going. Contact Tate Bywater today to schedule your consultation with Mr. Fuller to take a look at the legal side of your financial situation.
Before bankruptcy laws existed, the United States and many other countries had varying degrees of "debtor's prisons", where they would imprison citizens who owed debts until they could pay them off. The Catch-22 was that these citizens couldn't work while in debtor's prison, so they had no way to contribute towards paying down their debts! Things have evolved a long way from then, and now, bankruptcy law is in force to protect you while you get back on your feet.
"Making a tough situation easier and peaceful with outstanding professionalism!: From the moment of my first call to Gary Fuller in 2010 thru the years up to now, Gary has always had a peaceful calming attitude which is critical when someone is about to lose their home… Gary and his assistant, Xenia, are both an absolute delight. While they have a full load of clients, they were always focused and treated us and our case as if it were the only one they had. Our case had a very tight deadline and a very quick turn around because Gary Fuller was knowledgeable, professional, and attentive to every detail. To this day, if I have a question or concern, I am able to call his office and speak directly to him and am still treated with kindness and professionalism. I have recommended Gary to others and will continue to do so."
– Christine (Avvo.com)
"Exceptional service and extremely trustworthy: Gary Fuller and his staff have always been extremely helpful, confidential, and sensitive to my families needs. He went above and beyond to help us with our Chapter 13 bankruptcy case, as well as, helping us with the estate tax filing for my mother in law. He was always available to speak with us one on one & extremely knowledgeable. We really appreciate everything he has done for our family.
– Shirlie (Avvo.com)
"Gary did an excellent job helping me through a tough decision. He was very knowledgeable of procedures and options available to me and my situation. He kept me informed and was supportive as well. I would highly recommend him to any and all who find themselves in a tough financial spot. I also found his assistant Ms Barnes to be an invaluable source of information."
– Annette (Avvo.com)
"In their 262-page modern "horn" book, James Tate and Charles. Van Hardenbergh have created an "A-Ha!" explanation of a difficult-for-lay-folks-to-understand subject: the American Criminal Law System from two trial lawyers' perspectives.
Criminal Law basically is a series of socially defined "Thou Shalt Nots" backed up by penalties that include fines, jail time, and death sentences. Where the sticky part surfaces is when it is up to a judge or a jury to determine guilt in the absence of absolute fact.
That is where logic, precedent, and uncertainty meet and where a good trial practice attorney must assess the odds of victory or defeat. And THAT is the subject which two exceptionally good trail practice attorneys are presenting in this horn book format. (Horn books are the law student's "tell it ALL to me NOW!" synopses of the law in different specialties).
This book explains to a rational defendant that he or she must consider those same odds, completely apart from whether the client believes that the issue is guilt or innocence alone.
How should a client plead and why? Jury versus judge? The value of strategy. Picking your turf and evening the odds. A whole lot of basics going on, and all populated by examples you will find difficult to forget.
Organized in two parts, the first with 14 chapters composed by Jim Tate and the second, another nine chapters by Van, the book has value to all who practice in the courts, while it also serves its first purpose as a critically needed primer for all those who find themselves charged and summonsed,
Bottom line: Do NOT go into court without having read – and heeded – the warnings in this outstanding book."
Edwin G. Sapp, JD
Collegiate Professor
Chair, 400-level Professional Writing Courses Communication, Arts, and Humanities University of Maryland University College
Dear Mr. Fuller:
I would like to express to you my gratitude for all you have done to help me through a very difficult time. I must say it has been a very trying time in my life and there were some very dark times when I wasn't sure I would get through it all. It has been a breath of fresh air to have people step up and stand by me when I needed it most . I have finally recovered financially since the bankruptcy. Thank you so much for understanding and being the people you are.I will absolutely come to you for any other services I may need in the future and recommend your services to any and all who may need it.
Again thank you,
Richard J.
"Outstanding Legal Professional: Mr. Fuller was hired to represent my wife and I during a very difficult time in our life.
From day one Mr. Fuller and his entire legal staff did an outstanding job in first meeting up with us. Hearing what we had to say and guiding us through all the legal issues that our case presented. When we had a question for Mr. Fuller he was avaliable to answer our questions. After we had obtained all of our paperwork on the case, Mr. Fuller staff met up with us and quickly reviewed our information page by page and had the answers to any of our questions we had along the way. Once the paperwork was in order, we once again meet up with Mr. Fuller in his office. After he reviewed all the required paperwork, Mr. Fuller filed our case with the court system in short order. Mr. Fuller legal team keep us informed as our case proceeded in the court system with out fail.
From the beginning both my wife and I had a specific time frame to have our case over with. Mr. Fuller met this expectation on time and our case was set to be heard and it was heard on the first date set by the court sytem.
Mr. Fuller representations to the court were outstanding and in short order our case before the court was settled and my wife and I have been able to move on with our lives as we had hoped to do when we hired Mr. Fuller.
Finally one great thing about Mr. Fuller being our legal represenative was this. Mr. Fuller advised us that if at anytime in the future a new issue that was related to our case came up, all we had to do was call his office or send in the paperwork and any documentation we have and the issue(s) would then be addressed by Mr. Fuller and his legal staff without delay.
Over time we have had to use Mr. Fuller's follow up service several times. Each time as promissed, Mr. Fuller and or his legal team handled the preperation of all required paperwork with out delay and our worries were over with when his office provided us with the paperwork that he prepaired to resolve the issues that had come up.
Clearly Mr. Fuller is an Outstanding Legal Professional who has always stood behind his work without exception. Today both my wife and I are clearly on our way away from the legal issues that brought us to Mr. Fuller and his law firm. For this reason if in the future we may need quality legal and professional services, both my wife and I will have no hesitation in asking Mr. Fuller for his legal representation and help in the future."
– William (Avvo.com)
"Excellent advice during a difficult time: My wife and I used Mr. Fuller's services to help us through chapter 7 bankruptcy. He was very accessible, and answered every question we had. He had fully prepared us on what to expect at every step of the bankruptcy and also what to expect afterwards. He really put us at ease during our time of uncertainty. It was nice to be able hand over something very personal and know that the situation was being handled correctly and professionally.
We had originally used Mr. Fuller's services when we purchased our first home. Because of that first experience, we had no reservations in using him for our bankruptcy."
– Client (Avvo.com)