James Tate | Founding Partner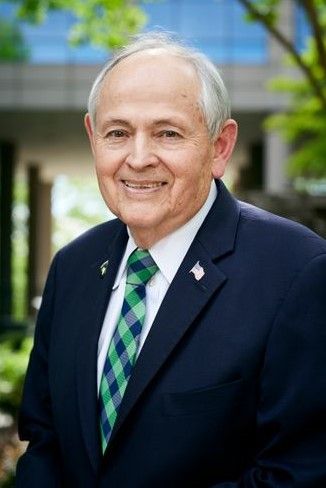 JAMES TATE
Founding Partner
Jim has established himself as one of the premier attorneys in Northern Virginia, having over 40 years of experience practicing law. His practice focuses on white collar crime, civil litigation, and personal injury. Jim served as a Lieutenant in the U.S. Army during Vietnam with the 101st Airborne Division. He has also served as an Assistant United States Attorney and a member of the Virginia House of Delegates. In 2015 Jim co-wrote the book, I Am Charged With a Crime, which includes experiences from his legal career and life, and also offers advice for those facing a wide range of criminal charges.
Jim has a peer review rating of "AV" from Martindale-Hubbell, the highest peer rating an attorney can obtain. He has also been awarded a 10 out of 10 rating by AVVO, reflecting his exceptional reputation and experience as a legal professional. In 2018, Jim was recognized by Attorney and Practice Magazine's Top 10 Attorney List.
Beyond the law, Jim actively volunteers of his time for his faith, The Church of Jesus Christ of Latter-day Saints, for which in 2007 he served full-time as the President of the Alabama Birmingham Mission for three years. He is married to Sharon Spieks of Avondale, Georgia, and they have two daughters and five grandchildren.
Areas of Practice
Civil Litigation
Personal Injury
Domestic Relations
Criminal Defense (including white-collar crime)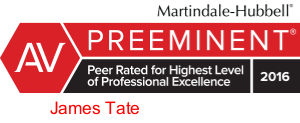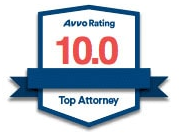 Admissions
Virginia
Maryland
United States District Court for the Eastern District of Virginia
United States Fourth Circuit Court of Appeals
United States Supreme Court
Notable Case
United States v Dr. Mark Capener, United States District Court, Nevada (Reno Division Case 3:05-cr-114 RCJ (RAM)). After a jury trial lasting over a month Dr. Capener was acquitted of all 52 counts brought against him. After the trial, the trial judge, in a rare ruling, required the Government to pay part of Dr. Capener's attorneys' fees and expenses. See Order) The ruling against the Government is now before the Ninth Circuit Court of Appeals in San Francisco.
Associations and Memberships
Mr. Tate has served on the Fairfax Red Cross Board, the 4-H Board, and the Symphony Advisory Board.
Education
George Washington University
Georgia Tech University
Bachelor of Science (Chemical Engineering)
Words will never be enough to thank you
Mr. Tate,
We are writing to thank you for the excellent way that you have defended us in the past 8 years. You were an answer to prayers and have been a guardian of our family and our freedoms ever since.
Over the years you have willingly assisted us whether our situation was large or small. Always taking the time to educate yourself, find resources and experts to assist in our plight. Your personal integrity and high moral standards instill in us, trust in your abilities and work ethic. You have treated us like a friend and defended us like one of our own.
Your attention to detail, quest for truths, and drive for justice has served us well. Words will never be enough to thank you for your service.
Thank you, Mark & Sally C.
Simply the Best!
"Simply the Best! I have known Mr. James Tate for 25 years. I can tell you that he is exceptional and rare. I highly recommend Mr. James Tate for a wide range of legal issues. In my opinion, he has consistently shown himself to be ethical, knowledgeable, competent and an extremely skillful attorney. Besides the fact that he is very personable. He is head and shoulders above the rest. I have met and worked with a lot of attorneys in the DC area. He is able to expertly advise his clients and maneuver them through the Court system and trials with ease and trust. Mr. James Tate has my utmost respect and I highly recommend him to anyone needing legal help. You will not be sorry you called him. His staff is also wonderful."
– Michele
Literally saved my life
"Before we went to trial, I thought all was lost. You literally saved my life. There is not a day that goes by that I am not thankful for James Tate."
– Client
Outstanding Book
"In their 262-page modern "horn" book, James Tate and Charles. Van Hardenbergh have created an "A-Ha!" explanation of a difficult-for-lay-folks-to-understand subject: the American Criminal Law System from two trial lawyers' perspectives.
Criminal Law basically is a series of socially defined "Thou Shalt Nots" backed up by penalties that include fines, jail time, and death sentences. Where the sticky part surfaces is when it is up to a judge or a jury to determine guilt in the absence of absolute fact.
That is where logic, precedent, and uncertainty meet and where a good trial practice attorney must assess the odds of victory or defeat. And THAT is the subject which two exceptionally good trail practice attorneys are presenting in this horn book format. (Horn books are the law student's "tell it ALL to me NOW!" synopses of the law in different specialties).
This book explains to a rational defendant that he or she must consider those same odds, completely apart from whether the client believes that the issue is guilt or innocence alone.
How should a client plead and why? Jury versus judge? The value of strategy. Picking your turf and evening the odds. A whole lot of basics going on, and all populated by examples you will find difficult to forget.
Organized in two parts, the first with 14 chapters composed by Jim Tate and the second, another nine chapters by Van, the book has value to all who practice in the courts, while it also serves its first purpose as a critically needed primer for all those who find themselves charged and summonsed,
Bottom line: Do NOT go into court without having read – and heeded – the warnings in this outstanding book."
Edwin G. Sapp, JD
Collegiate Professor
Chair, 400-level Professional Writing Courses Communication, Arts, and Humanities University of Maryland University College
"I have been to court a lot. You are the best trial lawyer I have ever seen."
– Client